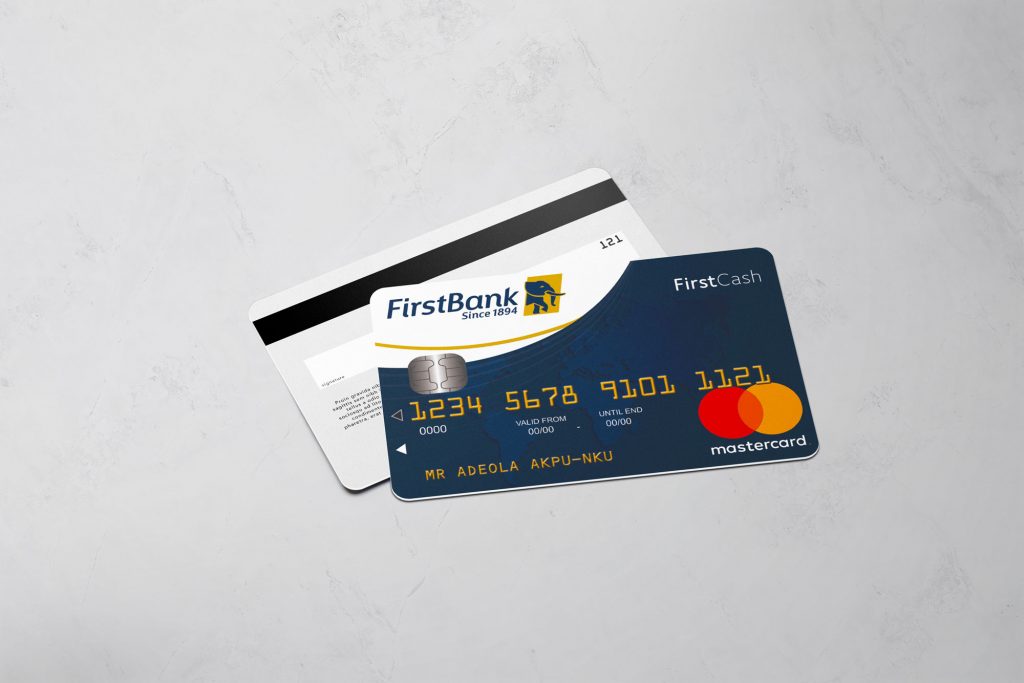 First Bank of Nigeria Limited has announced a promotional campaign to reward its customers for using their FirstBank Naira MasterCard for international transactions. The promo will run for four months, beginning in July 2018, through October, 2018.
The FirstBank Naira MasterCard variants include the Classic MasterCard Debit, Platinum MasterCard Debit, and the Expressions on Cards. These cards are denominated in Naira and issued in partnership with MasterCard Worldwide. The Cards are linked directly to customers' Naira denominated current and/or savings accounts and offer a convenient alternative to the use of cash and cheques by giving direct access to funds in cardholders' accounts across all channels such as ATM, POS and WEB.
FirstBank Naira MasterCard holders who transact on POS/WEB for values between $2,000 and $3,000 per month will get the Naira equivalent of 0.5% the value of the transactions credited back into their accounts, while Customers who transact on POS/WEB for values between $3,001 and $5,000 per month, will get the Naira equivalent of 1% the value of the transactions credited back into their accounts.
These cards can be used to pay for goods and services at over 29 million locations and Merchant outlets as well as withdraw cash from over 1.8 million ATMs worldwide. FirstBank employs the use of Chip & PIN technology to guard against unauthorized transactions on cards.
According to the Group Head, e-Business, First Bank of Nigeria Limited, Mr. Chuma Ezirim, "FirstBank is delighted to reward its customers who carry out their financial transactions in an easy, secure and seamless way at any given time and anywhere during this summer period all around the world".
Walk into any FirstBank branch today and pick up your Naira MasterCard to get rewarded.
About FirstBank
First Bank of Nigeria Limited (FirstBank) is the premier Bank in West Africa and the leading banking services solutions provider in Nigeria. With some 14 million customer accounts, FirstBank provides a comprehensive range of retail and corporate financial services with over 750 business locations. The Bank has international presence through its subsidiaries, FBN Bank (UK) Limited in London and Paris, FBNBank in the Republic of Congo, Ghana, The Gambia, Guinea, Sierra-Leone and Senegal, as well as a Representative Office in Beijing.
Since its establishment in 1894, FirstBank has consistently built relationships with customers focusing on the fundamentals of good corporate governance, strong liquidity, optimised risk management and leadership. Over the years, the Bank has led the financing of private investment in infrastructure development in the Nigerian economy by playing key roles in the Federal Government's privatisation and commercialisation schemes. With its global reach, FirstBank provides prospective investors wishing to explore the vast business opportunities that are available in Nigeria, an internationally competitive world-class brand and a credible financial partner.
FirstBank has been named "Most Valuable Bank Brand in Nigeria" six times in a row (2011 – 2016) by the globally renowned "The Banker Magazine" of the Financial Times Group; and "Best Retail Bank in Nigeria" for seven consecutive years, 2011 – 2017, by the Asian Banker International Excellence in Retail Financial Services Awards. Our brand purpose is to always put customers, partners and stakeholders at the heart of our business, even as we standardise customer experience and excellence in financial solutions across sub-Saharan Africa, in consonance with our brand vision "To be the partner of first choice in building your future". Our brand promise is to always deliver the ultimate "gold standard" of value and excellence. This commitment is anchored on our inherent values of passion, partnership and people, to position You First in every respect.
Folake Ani-Mumuney
Group Head, Marketing & Corporate Communications